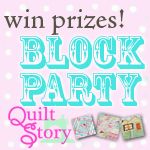 Hello! My name is Vickie and I live in a small town in the gently rolling hills of Kansas. I am happy to participate in the Quilt Story Block Party. There is so much inspiration and tons of wonderful ideas on flickr. I am happy to be a part of the fun. It is always a good day to 'play', especially when it is so white outside and you love color! So...
Traditional: Flying Geese
My traditional block is made with Amy Butler's love fabric, which is significant for me as I began quilting a few years ago because I saw her fabric in a quilt. It was a "this is not your grandma's pastime" moment and I knew I wanted to work with all that wonderfully colorful and delightfully designed fabric! I don't know why flying geese have intrigued me, with their points to meet, but they have. I especially like that the dark geese in this block are actually two different fabrics in similar colors that have been pieced. I made this block for
The Quilting Journey Round Robin Bee's
quiltalong, so I get to keep it.
Modern: Pinwheel in a Star
My modern block also comes from
The Quilting Journey Round Robin Bee
. The pattern is from
Hanies
and is now living with
Melissa
who requested pinwheel blocks. The colors of her starter block were fresh and bright, so this block was really fun to make. I love that white inner border that breaks up the star!
Creative: Cindy's Park Applique
I made this applique park for a quilt that is going to be a neighborhood, also from The Quilting Journey Round Robin Bee.
Cindy
requested anything that would be found in a neighborhood and sent a modern house block as her starter block. By the time I received the group of blocks, there were several houses, a dog house and some people, so I thought about adding a place for those dogs to take a walk, thus the park was 'born'. I don't know where that bird came from. He just showed up one day, so I let him stay.